Do you remember the drawings we draw as children, with special passion and enjoyment? That was a small escape from school obligation. Mama Clause gave me oil pastels when I was 6, then my colorful world has not stopped existing.
So how drawing can awaken Your imagination? There is one big-top secret which knows only great painters and great drawers. She hides in constantly observing the world around You." The click" or "Inspiration"is when You connect a tree branch with lines of a women's body. Then You pencil makes Ballerina movements and draws that magical connection between two natures. That how begins imagination in Your look and finish withdrawing.
Drawing "Celebrity of love", 40x50cm, aquarelle, 2014.
This is just "one of the signs along the road" why it is important to have at least one drawing in your house (if not more). Because those lines that travel through recognition are similar to a man who chooses his destination and stands at the crossroads of decisions, more than we allow ourselves to see and feel. Then let's release our drawings that we drew a long time ago and awaken new desires and ideas for life.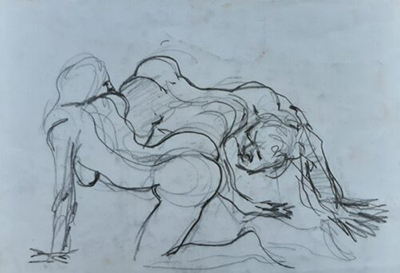 Drawing "Beast people", 25x30cm, pencil, 2013.
I hope that I touched you with this lyrical prose and opened the way to new feelings while looking at the drawings and imagining "yours" that has not even been drawn yet.
Please leave me a comment and write me what you think about it because Your opinion means to me. Thanks a lot.